If you are a fan of sex cam websites, you have probably been wondering what lies beneath those flirty naked façade of sex cam girls. Well, so did we. So, we decided to bring you these three amazing stories about three completely different adult cam stars.
If you think they are scooping A LOT of easy money – you're right. If you think they are often sad and lonely – you are right. If you think they truly love what they do – you were also right.
The folks over at Gizmodo.com had a rare chance to chat (not sexchat, but have real conversations) with 3 rather interesting personas from the sex cam world, and this is what they found out.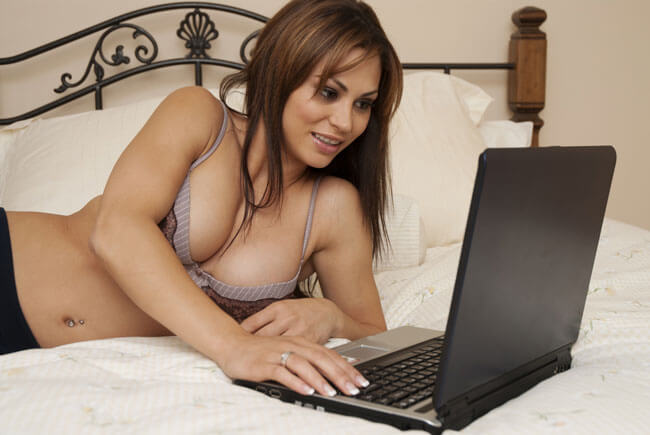 The Domino Effect
Her stage name is Domino and she was a graphic designer before she started her camming career. Domino decided to quit her boring job back in 2010 and give this new and unknown industry a try.
Soon, she realized she was a natural cam girl and her camming career set forth. However, she instantly realized that she could be her own boss, finding her way around affiliate middle-men. Unlike most sex cam girls, Domino is now completely independent, streaming her sexy and hot videos from her home studio.
"I love my job," says Domino. "I can work when I want to, as much as I want to, [and] nobody can tell me how to do my job."
And it gets better for Domino.
Her clients pay her between $90 and $120 an hour, which is about sixteen times her state minimum wage. Domino estimates she can score more than 300 US dollars on a good day.
The Regular Anna
Anna is a 24 years old girl from Romania. It takes her only five days of camming per month to match the Romanian per capita income of roughly $12,000 a year, but should she want more money, she simply works more days. As simple as that. But that's not nearly all about Anna.
Want to know the best part?
Anna says she found a sex cam formula that makes her clients shower her with money. "It's all about saying to people they are sweet," says Anna. Genius.
However, the truth is that there's really nothing "exotic" about Anna. She's lazy, often messy, and when she's not taking her clothes and flirting in front of her camera, she is hanging out in her Bucharest apartment wearing pajamas all day.
The saddest part, perhaps, is that she claims to have almost no real friends. She occasionally goes outside to pick up some fast food or buy new underwear, and that is it. But that isn't stopping Anna from being consistently cheery and rather talkative.
A true next-door gal.
Mila Milan The Supermodel
Last but not least on our list is the beautiful Mila Milan. As Gizmodo.com stated, she is "as close as camming gets to producing a celebrity".
Mila started her adult industry career in the German porn game when she was only 17, but a couple of years later she realized that moving to the sex cam business is much better for her.
Soon, Mila became the number one rated model on MyFreeCams, snatching around $37,000 a month.
Her biggest tip? 260,000 tokens, which was about $13,000 for Mila in an instant. This is also one of the biggest tips in sex cam history up to date.