It's easy for users to simply log into their favorite adult website, find a girl they think is interesting, click, and enjoy the show. On the other side of this story are the models – the sexy, horny, hardworking girls who are willing to put their goods out there for our viewing pleasure.
So, in case you were wondering, here's some insight on how being a sex cam model actually works. After reading this, you'll surely look at these performers in a different light and with respect.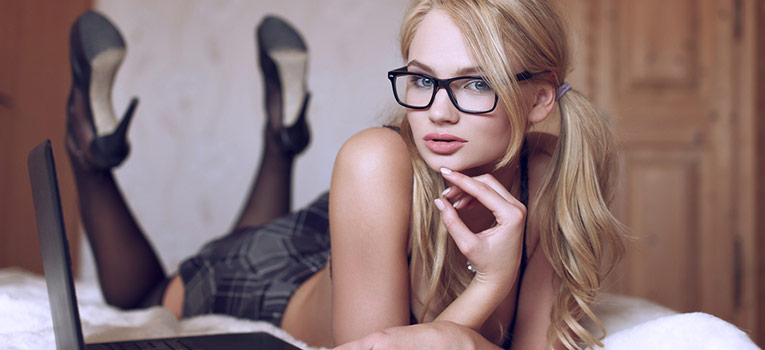 Money or Pleasure
Just appearing in front of a camera while knowing there are hundreds or even thousands of people watching you from the other side is intimidating as it is, so we can only imagine how demanding it has to be to do all that nasty and sexy stuff while at it.
Nonetheless, the sex cam industry has never been stronger, as nowadays we can find tens of thousands of performers on so many different websites. And although their number has grown exponentially in the past years, the job didn't get any easier.
Let's make something very clear right now – all models that do this type of work are in it for the money. Sure, there's the pleasure of interacting with strangers on a daily basis, but it's really the sound of cash (or in this instance, tokens) that makes those bras and panties fly right off.
That being said, we would also like to note that modeling on sex cam websites can be really prosperous. If a girl is willing to work for it, she can make up to $200-300 per day by performing on adult webcam sites – on the other hand, shy girls will never get close to this amount no matter how adorable they are.
Human Contact
For some girls, stripping to their skin and doing various sexual acts on camera isn't the hardest part of the job. Instead, it's rude and insulting behavior of the visitors that really gets to them.
Once a cam girl starts doing what a user requests, that person automatically assumes that she's a robot or even a slave rather than a human being. So, when they go too far with their fantasies and the model says "No," she's very likely to receive a whole basket of insults and cruel messages.
Cam girls have to go through all of that to keep their show intact, because that's what ultimately puts a lot of these girls through college or helps them pay their bills. Even then, there's a good chance that a model is just going to have a bad day, in which case no users will visit her channel and she won't make a single buck for the day.
Bottom line, being a sex cam performer can be easy and fun, yet sometimes quite the opposite. Not only does becoming successful in this industry require a certain dose of confidence and outgoingness, but a cam girl has to know how to advertise herself and keep you interested in what she has to offer.
In any case, it's a full-time gig that requires a lot of dedication and effort, so you better know how to appreciate that the next time you're chatting with your favorite cam girl.