Watching porn is one thing, quietly observing a live show of a sexy cam girl is another, but actually chatting with one of them and getting them to do what you enjoy the most is a whole other story. A lot of times these girls can come off as bitchy or impolite, but as always, there's more than one side to any story.
Sometimes a really hot chick is just rude, other times girls can get irritated by redundant questions or users behaving abruptly. In any case, these things lead nowhere, and that's why we wanted to share a few tips on how to and how not to talk to a sex cam model.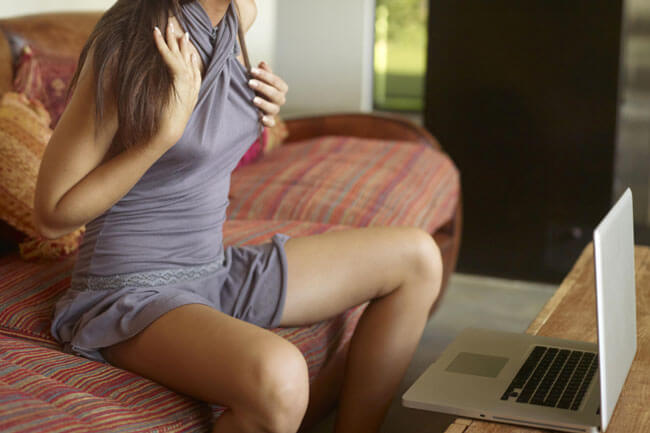 See The Difference?
As it is with real-life dating, so it is with sex cam websites: a guy with no class, tact, or manners will not score no matter how deep his pockets are. That being said, let's get down to what is and what's not OK to say or do while chatting with an adult webcam performer.
First things first: sex cam girls are there for one reason and one reason alone – to make money. Now that you know this, you'll understand why the best way to get a sex cam girl's attention is by showing her that you mean business.
Adult webcam sites are mainly business platforms for these performers, so the sound of tokens coming their way is the biggest factor in how good of a connection you can make with any of them. If you're just there to spam her with questions and demands without the slightest intention of tipping her, she'll see you as a time waster and that's how that scenario ends.
However, if you're willing to make it worth her while, you're most likely in for a wild ride. Then again, this should also be done with a certain dose of finesse. For example, avoid the small talk and questions like "What's your name?" and "How old are you?" – if you're really interested into this stuff, most sex cams websites feature performer profiles along with their full bio, so go look there.
Instead, compliment a girl on her outfit (if she's even wearing one) and say that you'll like to see more of it. Although sex cam sites aren't like dating, they still require you to have some subtlety if you want any model to fulfill your fantasies.
Another thing you shouldn't forget is that no matter how much you think you're in control, it's always the cam girl herself that ultimately runs the show. This means that even if she's doing a private show for you and she deviates from the elaborate script you've so carefully planned in your head, it doesn't mean you should be rude – some girls simply won't or can't do certain things, and that's completely fine.
At the end of the day, sex cam models aren't doing what they're doing to entertain bored guys or girls on the internet. Time equals money, and these performers know it – perhaps it's time we all learn that, too.